Overview
The Orders Dashboard is where you can find a complete history of your successful orders and issue refunds.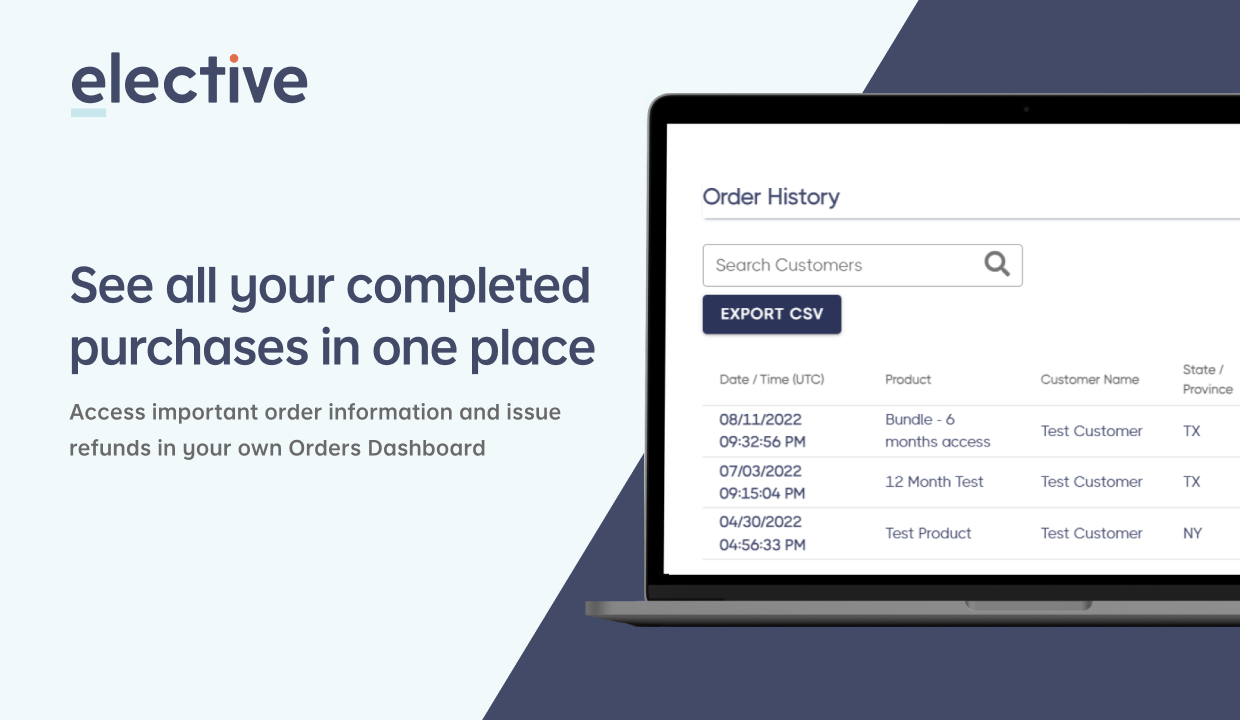 Using the Orders Dashboard
The orders dashboard provides the following information:


Key Terms
Description
Purchase Date
In Coordinated Universal Time (UTC)
Student Name
The customer's full name
Product Purchased
The name of the product that was purchased
Currency
The currency of the purchase
Order Total
This is the total price of the product
Term
This is the length of the payment plan in months
First Payment
This is the amount paid for the first payment on the purchase date
Fees
The Elective fees associated with your order
Net Amount
The net payout that you receive associated with the order
Type

The source of the order:

Funding: Learn Now, Pay Later (LNPL) orders

In-House: Payment Plan Management (PPM) orders

Status
This describes the current state of the customer's payment plan:

Approved: the customer has successfully purchased

Pending Payment: the customer purchased using direct debit and the payment has not yet cleared

First Payment Failed: the customer attempted to pay using direct debit but the transaction did not go through

Refunded: a refund has been successfully processed
Action
A 'REFUND' button will show here when an order has been confirmed. You can use this button to initiate a refund through Elective.
Exporting Order Data
You can export all of this information using the 'EXPORT CSV' button on the top of the dashboard.

Issuing a Refund
Processing a refund for a customer using Elective is similar to processing any regular refund and is still subject to your own refund policy. You can issue a refund through the Orders dashboard by clicking the 'REFUND' button to the right of any order. At that point, Elective will automatically cancel any outstanding payments associated with the order and any payments received from the customer will be refunded back to the original payment method used.
Need More Help?
We're happy to answer any questions you might have. Reach out to us at help@elective.com and we'll help you get up and running!