Overview
This comprehensive guide will lead you through Elective's onboarding process. Once you've read each step of this guide, you will be able to seamlessly use Elective to supercharge your sales!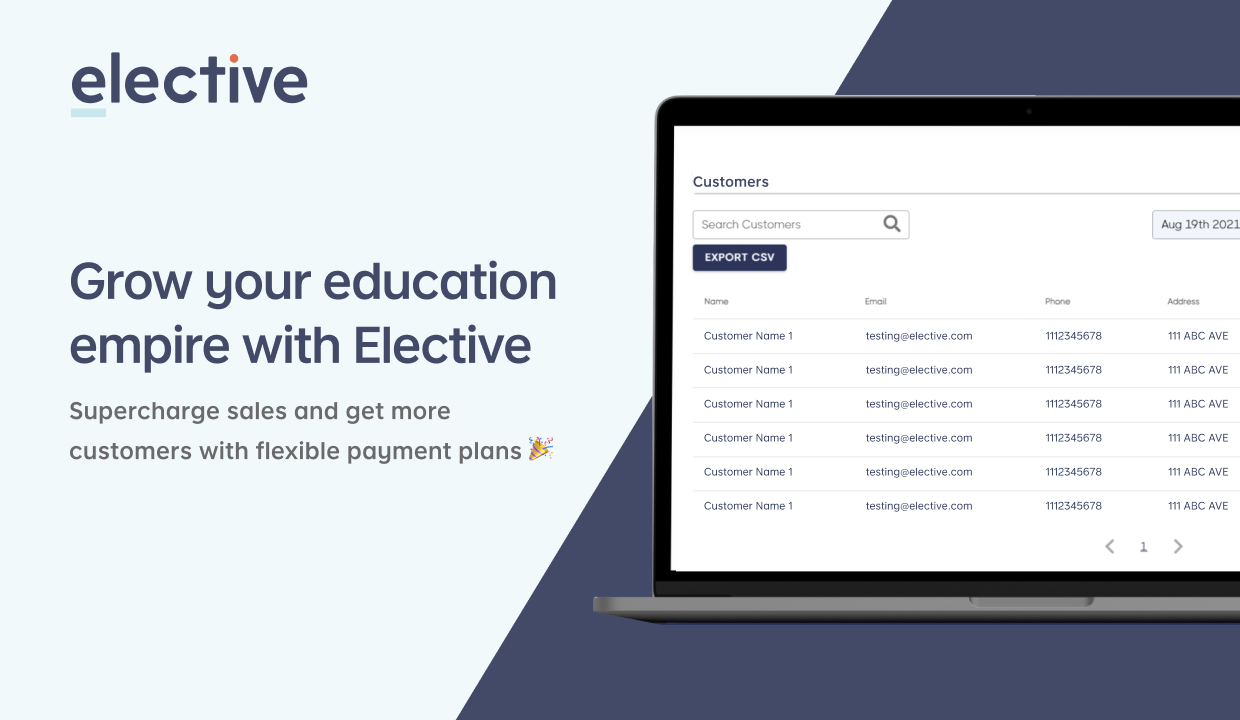 Onboarding Guide
As you work through these articles, you will: (1) explore our checkout solution, (2) learn how to navigate your Elective application, and (3) seamlessly integrate Elective with your core tech stack for post-purchase automations. Let's get started!
Watch a Demo of Elective's Checkout: Elective's checkout solution is easy to use and designed to drive conversions for your business. Watch our demo here.
Down Payments and Geographic Coverage: Here we highlight how "down payments" work with Elective and the regions we currently operate in.
Approval Guidelines: Want to know how we determine eligibility for payment plans? Check out this article for more.
Locate Your Merchant Agreement: Your Elective merchant agreement has valuable information about working with us.
Customer Support Options: We break down the different customer support options available to you and your customers.
Set Up a Product on the Products Dashboard: Want to sell a product through Elective? Easily create and price your product in the Products dashboard.
Explore the Orders Dashboard: The Orders Dashboard is your hub for finding customer purchase information and for issuing refunds.
Explore the Students Dashboard: The Students dashboard is where you can find information about your current and prospective customers in Elective. This includes their email, phone number, and their checkout status (e.g. Lead, Approved, Declined, Purchased).
Learn About Payouts with Elective: We conduct batch payouts every Monday to the bank account you put on file with us.
Learn About Cancellations, Reversals, and Chargebacks: These adjustments can affect your payouts and will be reflected in your Settlements dashboard.
Explore the Settlements Dashboard: The Settlements dashboard is where you will find granular detail about your payouts.
Link Your Elective Account with Zapier: We've built a native Zapier application so you can connect Elective with hundreds of different tools.
Set Up Your Zapier Automations: With Zapier in place, we can instantly notify you when: an order has been completed, an order has been refunded, an application has been approved, and when an application has been declined.
Test Your Zaps: Now that you've set up your Zaps, how do you make sure they're working correctly? We've made it easy to test your Zaps directly in Elective. No more second-guessing!
Congratulations! 🎉
Great job. If you've made it this far you're well on your way to becoming an expert with Elective! We couldn't be more thrilled to have the opportunity to work with you.
Need More Help?
We're happy to answer any questions you might have. Reach out to us at help@elective.com and we'll help you get up and running in no time!